Le bel Étage is the former domicile of the village notary, a bourgeoisie-style apartment with high ceilings, tall windows and an impressive marble fireplace. Situated on the first floor of the house, it overlooks a picturesque square and the old village.

The apartment is suitable for two persons.

It consists of a living of 30m², kitchen, bedroom, bathroom and separate toilet.

The living is spacious and contains amongst others two comfortable couches and a television (BBC World and CNN are available).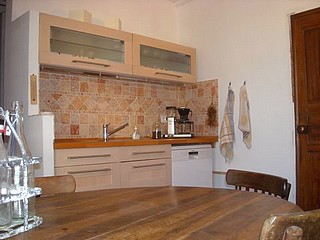 The kitchen is fully equipped and provided with a dining table and chairs, a refrigerator, dishwasher, induction cooking-plates, oven and coffee machine.

The bedroom has twin beds with spring mattresses sized 80x200cm each. The adjacent bathroom contains a Jacuzzi and separate shower cabin.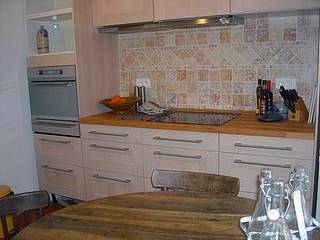 Le bel Étage breathes the atmosphere of the rich Provence, combined with the modern demands for comfort.

The apartment has central heating and is therefore well suited for a stay outside the holiday season.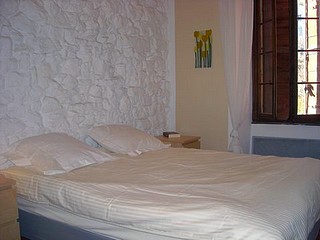 Waking up in our apartment in the middle of Reillanne you'll find 'le boulanger' is only a five minute walk away.

You can have breakfast with a fresh baguette, coffee and croissant in the kitchen near the window or on the terrace in front of the house: both offer a splendid view on the old village and the magnificent belltower of Site Saint Denis.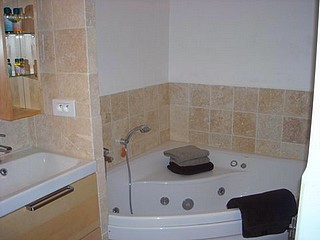 A holiday in the Provence means tasting the atmosphere of a historic Provencal village whilst enjoying a lifestyle free of stress.

You can go for a stroll through the narrow streets and have a drink or nice meal on one of the terraces on the village square.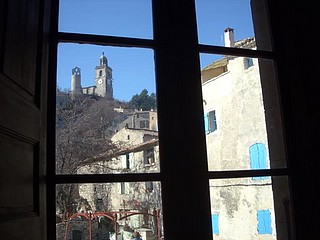 Our apartment ensures you come home to a comfortable residence.

But staying at home in Le bel Étage is certainly not a punishment! You can sunbathe next to the swimming pool or relax with a good book in the shade of the trees in the garden in front of the house. And in the evening dream away under the starry skies with a glass of vintage wine from the Provence.

You are very welcome!