When we bought the former Notary's practice, the gardens on the other side of the road were part of the purchase. In these large gardens at the back of the house we restored the gardner's house and we created a sun terrace and a swimming pool.

The swimming pool measures 7.50m x 4m and is 1.10m deep. This depth is suitable for some fun for very little children when accompanied by their parents; children from around six years old can stand in it. For the réal fanatics the pool is equiped with an adjustable contra current which makes it possible to swim a long distance. In spring and autumn the swimming pool is heated to about 25°.

The garden next to the terrace offers the possibility for you to retreat if you want to be outside and are not in the mood for company.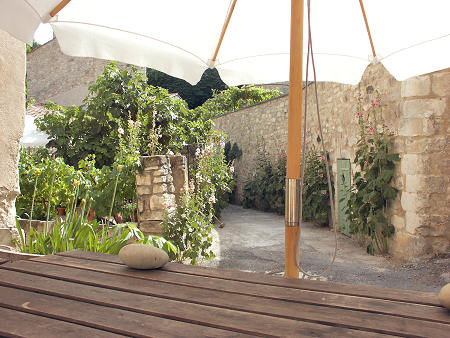 The front side of the house offers another garden and a small terrace next to the front door, two very nice spots to quietly savour the last sunshine of the day. Maybe with a good book or a nice glass of wine?
This pdf file shows you what is where on the property.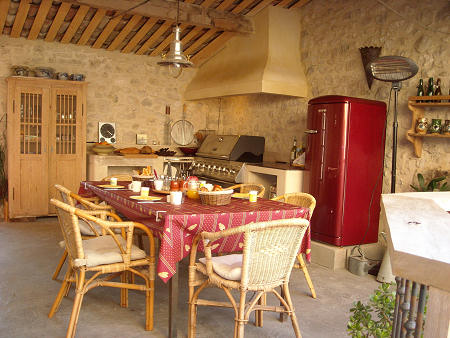 The covered terrace we created on the inner court of the house is the place where breakfast is served during summer. It is also the place where the guests can make use of the outdoor kitchen. In the evening many guests can be found here, talking about the experiences of the day.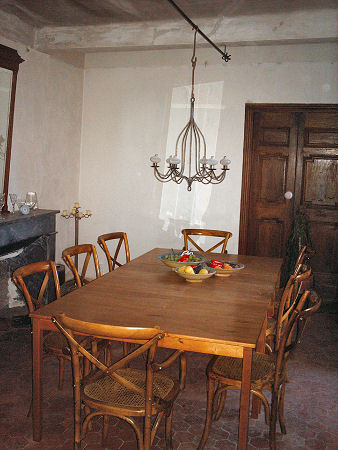 One of the "Etudes" of the former notary's office was transformed into a sitting- / diningroom. Here you can also find a large number of books for common use. The room is cosy and is used to serve breakfast during the colder periods of the year. On cold evenings it is also a good place to be.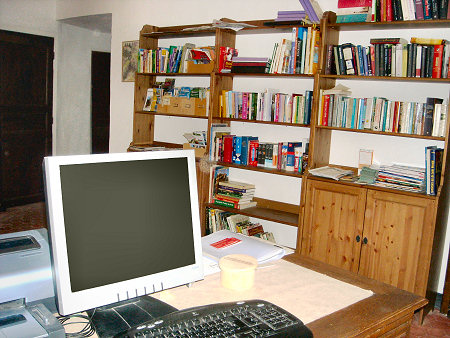 In the old waiting room of the notary's office, the "Salle d'Attente", an information corner with tourist information, walking books, detailed walking maps and travel guides was created after a thorough restauration. There is also a library with something for anyone's taste. And last but not least here you find a PC with internet, a DVD burner and a printer to be used by our guests. The house is equiped with a WIFI network that allows you to connect to the internet via your own laptop, even inside your own accommodation.